Rethinking Attachment and Separation in Cross-Cultural Perspective
Washington State University
May 19-21, 2011
Organizers: Naomi Quinn (Duke University) and Jeannette Mageo (Washington State University)
This conference convened a group consisting primarily of psychological anthropologists, biological anthropologists, and cross-cultural psychologists, all of whom brought to the table perspectives on early attachment and separation cross-culturally. The conference objectives were to review and appraise the state of cross-cultural research and theory on this topic, and to plan future research, collaboration, and publication. The premise for such a conference was that psychological anthropology and related disciplines are poised to offer more than they are currently contributing to the cross-cultural study of attachment and separation. The individuals who met and talked were working in several disciplinary traditions and had not yet had an opportunity to sustain such a joint conversation about the implications of their research on attachment and separation. Indeed, some hardly knew of one another's work, and they had certainly never before come together as a group. The conference took steps toward the development of a more unified cross-cultural perspective that would offer a theoretical re-conceptualization of the reigning psychological approach to attachment.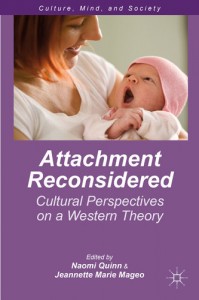 The conference produced an edited volume, Attachment Reconsidered: Cultural Perspectives on a Western Theory, published by Palgrave Macmillan.
Jeannette Mageo
Washington State University
Jeannette Mageo is a psychological anthropologist. Her current work focuses on dreaming and the self and on how subjectivity, identity, and emotion evolve out of cultural and historical experiences. From 1980, she has been involved in research and publication on Samoan culture,history, and psychology. Recently, she has begun investigating performance art and folk art in Samoa.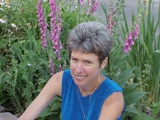 Since 2003, she has studied U.S. culture through dreams. Gender is a consistent dimension of her published work. Dr. Mageo has also researched and published on child development, sexuality, transvestism, prehistory, and spirit possession. She consulted for and appeared in a documentary made for Channel 4 in Britain, Paradise Bent: Boys will be Girls in Samoa, which is framed by her historical interpretation of Samoan transvestism.
Web page

Naomi Quinn
Duke University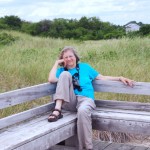 Naomi Quinn received her Ph.D. from Stanford University in 1971. Her research has pursued the reconstruction, from reasoning, metaphor, and other features of their discourse on it, of Americans' cultural understandings of marriage. Her newest research pursues the effects of early attachment and separation on adult intimate relationships cross-culturally. Her enduring interest is in the nature of culture: its sharedness, force, enduringness, and thematicity. She is part of a current effort in cognitive anthropology to explain these and other properties of culture on the basis of schema theory and, within this framework, to relate culture to language, cognition, motivation, affect, psychodynamic processes, and individual experience, research and theory represented by a series of books, book chapters, and articles. She also has an ongoing interest in anthropological research on gender, and was a member of the editorial collective that produced an Ethos special issue on Feminist Contributions to Psychological Anthropology (2004).
Web page