WELCOME TO BOSTON for the 2015 Biennial Meetings of the Society for Psychological Anthropology! Boston is a great city – a city of history, culture and the arts, distinctive local neighborhoods, great educational institutions, and a thriving restaurant scene. It has been a long winter in Boston, and we hope spring will arrive along with the Biennial, just a week before the running of the Boston Marathon. We hope you will enjoy the old Omni Parker House Hotel, located just a few blocks from the Boston Public Gardens and historic Beacon Hill, and will find that you are in the center of a very walkable city. We hope you will enjoy your stay – and leave wishing you could stay longer!
We have assembled a quick guide that includes brief descriptions of historic sites and areas of interest, restaurants and bars, shopping areas, and museums, musical events, theatre, and sporting events that will be going on during April 9-12. The Insight Guide to Boston is a good guide book, worth perusing for those of you who want to know more about the city, or you can log on to sites by Trip Advisor, Time, or the National Park Service.
We also have a great program for the meetings, held in a quite intimate space, and look forward to spending time together. We look forward to welcoming you to Boston!
Byron Good, President, Society for Psychological Anthropology
With Andrea Chiovenda and Karen Kwass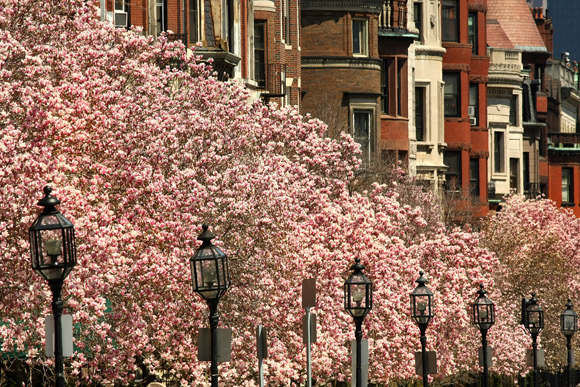 SITE-SEEING & AREAS OF INTEREST
Boston is known for its Revolutionary War history, ethnic neighborhoods, universities, museums, good food, sports teams, and more. There are many guide books and websites where you can find details. Here we present short descriptions and websites for more information on some of the most interesting and highly recommended places while you are visiting here in Boston.
Boston Public Garden is almost adjacent to your hotel and a place to sit and observe, stroll, or pass through on your way to Back Bay. Highly recommend that you spend a little time visiting here.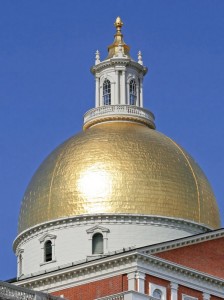 Massachusetts State House, located at the corner of Beacon and Park Streets, is almost directly across from the hotel and offers weekday tours. Built in 1798, the "new" State House is located across from the Boston Common on the top of Beacon Hill. Charles Bullfinch, the leading architect of the day, designed the building. The dome, originally made out of wood shingles, is now sheathed in copper and covered by 23 karat gold which was added to prevent leaks into the State House. In the House of Representatives chambers hangs a wooden codfish which is called the Sacred Cod. The Sacred Cod signifies the importance of the fishing industry to the Commonwealth. At the top of the golden dome sits a wooden pinecone which symbolizes logging in Boston during the 18th century.
Freedom Trail is a 2 ½ mile walk around historic Boston. Passing by several 'must see' places you could spend a full day visiting each spot along the way, or simply get in a good walk and absorb the architecture and sense of history held within these buildings. You can take a guided tour or download the Freedom Trail app and tour at your own pace.
The Paul Revere House and the Old North Church, a short walk from the hotel in Boston's historic North End, are worth your time, even if you do not have time to do the full Freedom Trail walk.
Fenway Park is known fondly as "America's Most Beloved Ballpark". Sports fan or not, a walk by the ballpark is interesting and a Boston iconic experience. April 13 is Opening Day, and preparations are well under way, so unfortunately no tours are available during this time.
Harvard University Harvard Square, Cambridge. Take a stroll through Harvard Yard to see the college established in 1636 on your own or take a guided tour open to the public and if you time take advantage of some of the many scheduled events.   Stop by Harvard's Widener Library and the Tozzer Library for its anthropology collection, as well as the Peabody Museum with its extensive exhibits on North American native peoples.
Harvard Medical School, Department of Global Health and Social Medicine, 641 Huntington Ave, is about 5 blocks down from the MFA and home to many medical anthropologists at Harvard as well as to Partners in Health.
Massachusetts Institute of Technology (MIT). Click here for a slide show about architecture, including projects by Frank Gehry and other great architectural works at MIT and Harvard.
Brewery Tours is a full tour which includes Sam Adams Brewery named after the famous patriot, Harpoon Brewery, oldest brewery in the state of Massachusetts and more. You could also contact individual breweries if one (or two) is enough for you.
The Prudential Tower Top of the Hub Skywalk Observatory is a great place to orient yourself to Boston from a bird's eye view. The observatory offers a breathtaking 360-degree panoramic view of the Greater Boston area and beyond. Audio tour handsets are available in two versions: one for children and one for adults.
In 2013, the New England Aquarium completed a major renovation that renewed its main building to the core. The iconic Giant Ocean Tank underwent a top-to-bottom, 21st-century transformation and several new exhibits were added throughout the building.
The Boston Public Library houses several murals by prominent artists, including John Singer Sargent, an Italian Renaissance-inspired interior courtyard with bubbling fountains and arched pathways, and a place to rest and read quietly.
Charles River Esplanade provides a great place to take a walk along the Charles River, where you might see local universities crew teams practicing or beginning sailors out in the sunfish.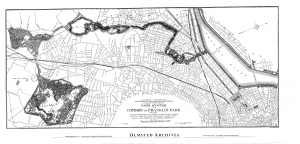 Architect Frederick Law Olmsted designed the 'Green Emerald Necklace' series of parks throughout Boston. The Emerald Necklace is the only remaining intact linear park designed by Olmsted, America's first landscape architect. From Boston Common to Franklin Park it is approximately seven miles by foot or bicycle through the parks. The Emerald Necklace includes Public Garden, Boston Common, Commonwealth Avenue Mall, to name a few.
South End is an area that has transformed itself over the last couple of decades with small black box theaters, great restaurants and intriguing shops. A fun, young, happening area.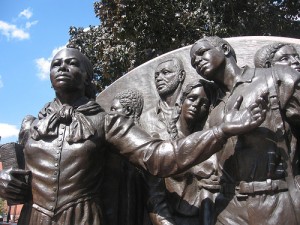 The Black Heritage Trail includes houses of worship, homes, schools, and Underground Railroad sites. Audio tours and self-guided tours can be downloaded and followed.
The only Boston Harbor Cruise available at this time is the USS Constitution Cruise, which can be combined with a tour of the navy yard.
The Charlestown Navy Yard is an active navy base and home to many historic buildings. The Commandant's House, built in 1805, is a good example of Navy-Georgian style buildings. USS Cassin Young, a Second World War destroyer, is permanently docked there. The Visitor Center offers a history of the Navy Yard from 1800 to the present. It is also the headquarters for Boston National Historical Park.
Concord and Lexington. For history buffs and those who have access to a car: Concord's Walden Pond where Henry David Thoreau lived, Louisa May Alcott's house, the Old North Bridge and other historical buildings and spot; Lexington's Battle Green "Shot hear round the world", destination of Paul Revere on his infamous midnight ride, and historical revolutionary period buildings.
RESTAURANT AND BARS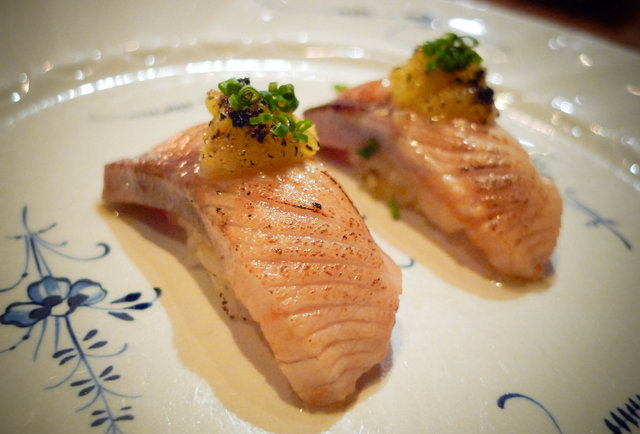 Boston has come along in the restaurant world. Once far behind great eating cities like San Francisco and New York, Boston, along with Cambridge and other towns in the greater Boston area, is now making a play to be considered an outstanding restaurant town. For example, a few years ago, Frank Bruni in the NY Times rated Boston's o ya and San Francisco's French Laundry as the two best restaurants in the country. So Boston has a reasonable food scene, to go along with excellent sea food restaurants, classics like the Union Oyster House and Durgin Park, and the North End Italian restaurants. We list here a few favorites. For the latest guides to a much broader range of restaurants, check out guides by Zagat's, Yelp, Trip Advisor, or Boston.com. Below, we make a few suggestions.
DOWNTOWN
The area where the Parker House is located is generally referred to simply as Downtown. It is the site of the first settlement, and expansion of the city, alongside the North End. Although many of the architectural landmarks have changed, and new ones have risen up, Downtown maintains the same urban structure, and street plan, that it had in the very beginning of the colony. That's where a good bit of American history started.
The UOH is both one of the main historical buildings in Boston, and a famed restaurant. The oldest brick house in town, it has hosted a handful of notable characters over time, among whom Louis-Philippe, later ruler of France (1830-1848), during his American exile. He taught French to students in his second-floor bedroom. The restaurant in itself is the oldest eatery in Boston, alongside the Durgin Park. Prices are reasonable, seafood is the specialty, but steaks and meat are available. It would not get four stars in the Michelin restaurants' guide, but it's nevertheless worthy if only for the atmosphere.
Durgin Park, 340 Faneuil Hall Marketplace, 617 227 2038
"At Durgin Park, we serve history", the restaurant's website boasts. And in fact, established in 1826, it is with the UOH the oldest restaurant in continuous business in town. Long tables await customers, so you have to be ready for a communal experience (smaller tables on request), and large portions. Seafood is the main choice, although a full menu is available. Prices are reasonable, and the ambience is worth a visit.
One of the best choices for Chinese food in Boston's Chinatown, it gives you the chance to wander through the up-and-coming Chinese neighborhood in town. Pricier than usual Chinese restaurants, it stays open until 4am.
This bar is worth exploring mainly for its 150 different types of vodkas. It offers also decent burgers, and live and DJ music in its downstairs section.
THE NORTH END
Originally surrounded by water, the marshy island was drained and occupied by the first Puritans who landed in the area. After the revolutionary war, British wealthy Tories fled the neighborhood, which became a working-class area. Over time it has witnessed waves of ethnically homogeneous immigrants, first Irish, then East-European Jews, and finally southern Italians (mainly from Sicily and Campania), whose descendants still maintain a strong foothold in the neighborhood. Today the North End is the Little Italy of Boston, and eating makes a great part of it.
The main feature of this restaurant is the long, dome-shaped brick-oven ("forno", in Italian), in which practically all of the entries of the menu (including pizza) get cooked. Neapolitan-style cuisine, for a slightly pricey bill.
Bricco, 241 Hanover Street, 617 248 6800
A chic and sophisticated restaurant (watch the wallet…), it boasts a menu with fancy entries that might as well be termed the "nouvelle cuisine" of Italian food. It offers a late-night lounge, with pizza served until 2am.
Dino's Café, 141 Salem Street, 617 227 1991
A tiny spot for a quick and cheap eat, this restaurant offers humongous and loaded subs (hot and cold), as well as home-made pastas of various kinds.
A corner of the old Irish North End within Little Italy, Goody Glover's is an Irish pub, where quick food can be found as well.
Visitors testimonials from all over the world sing the praise of Mike's Pastry, in the press, in private, on the streets and by endless stories passed on from generation to generation in the traditional Italian way. Mike's Pastry is a well-known local bakery with delicious cannoli's and other treats. Take home goodies for a later snack or dessert after a good Italian meal.
THE WATERFRONT
Up to the mid-1850s, Boston was still a bustling and busy seaport in its own right. The subsequent vicissitudes of the urbanistic plan made so that the waterfront's centrality in the economic life of the city decreased, until it faded completely by the turn of the century. Since the late 1970s, projects of restoration and renovation turned decrepit and run-down warehouses into new upscale shopping hubs and elegant condominiums. Tourists now flock again to this old neighborhood to appreciate the views of the harbor.
Meritage, Boston Harbor Hotel, 70 Rowes Wharf, 617 439 3995
Super chic and fancy hotel restaurant, it serves sophisticated New American cuisine, offered with professional sommelier advice for the choice of wines. Steep prices.
o ya, 9 east Street, 617 654 9900
A classy Japanese restaurant, it is rumored to serve sushi that one will not forget – at a price you won't forget. Best to book weeks in advance.
Uni is a somewhat less expensive, somewhat more available version of o ya.
BEACON HILL AND BOSTON COMMON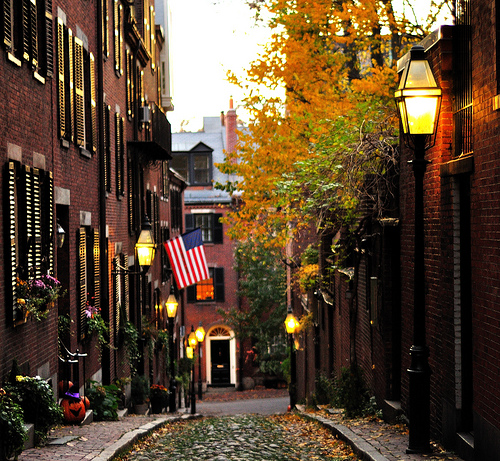 Beacon Hill is not the oldest, nor the wealthiest (now) neighborhood in Boston, but it is certainly the most charming and fascinating. Walking through its streets is like finding oneself, all of a sudden, in a 19th century New England quaint and quiet village. Thanks to strict urban conservation policies, nothing has changed on Beacon Hill since the main residential houses of the neighborhood were erected in the early 1800s. Once hosting the most distinguished among the (unofficial) aristocratic families of Boston (the "Brahmins"), Beacon Hill has developed into a diverse and modern residential area. Its architectural homogeneity, its feel of small town made still of red brick and cobblestone, make of Beacon Hill the jewel of Boston.
If you are looking for the oldest and best preserved corner of Boston, don't be surprised to find it in the Boston Common, the park is just a few blocks walk from the conference hotel. Over 350 years old, this pentagonal, 50-acre green area was secured by the founders of the city for cows and sheep to graze, on a "Common Field" (sic). Since then not much has changed: the geometry of the lawns and the majestic trees are still the same, and the park still retains the character of a geographical and social crossroads for the city as a whole.
A romantic and charming restaurant, located in one of the typically red brick houses of Beacon Hill, 75 Chestnut offers an American cuisine menu, with no frills and essential. Medium to high prices.
Located on the main shopping artery of the neighborhood, the restaurant offers Italian cuisine, with a choice of full entrees or small plates for snacking and sharing. The wine list is over 200-strong. Prices are medium to high.
Lala Rokh, 97 Mt. Vernon Street, 617 720 5511
Hosted by one of the classic townhouses that characterize Beacon Hill, Lala Rokh offers Persian cuisine with a touch of Turkey, Armenia and India, at very affordable prices.
Cheers, 84 Beacon Street, 617 227 9605
This is indeed the bar by which the famous TV series was inspired. The fans will certainly recognize the exterior of the bar, which featured in every episode. The interior, on the other hand, bears no resemblance with the TV setting (which in fact was an indoor studio).
HARVARD SQUARE, CAMBRIDGE
Harvard Square is easily accessible from the hotel – a quick walk to Park Street MBTA station (the T), and a short ride on the red line. A short guide to Harvard Square eateries lists nearly 80 spots in 'the Square'. These include what is probably the best of the Legal Seafood restaurants in the greater Boston area, the upscale Rialto in the Charles Hotel, the historic Algiers Coffeehouse and restaurant, the best beer and burger joint, mostly frequented by students, Charlie's Kitchen, and many more.
Central Square in Cambridge – one stop before Park Street on the red line – is home to chef Tony Maws' fine restaurant, Craigie on Main, and the Middle East Restaurant and Night Club. Up Mass Ave toward Porter Square, near Harvard Law School, can be found good restaurants such as Giulia.
SHOPPING DISTRICTS
Newbury Street is located in the Back Bay area within short walking distance from your hotel. Begin your walk through the beautiful Boston Gardens, crossing the bridge over the pond to see the Swan boats, on your way to Newbury Street where you will find art galleries, restaurants and fine shopping. This area is known to be more upscale and great fun for browsing, strolling, eating as well as shopping, or window shopping.
Boylston Street runs parallel to Newbury Street one block over and has several familiar department stores such as Apple, Marathon Sports, Lord & Taylor, Saks Fifth Avenue and generally less expensive stores such as Marshalls and Crate & Barrel.
Faneuil Hall Marketplace is a historic building and tourist destination, but worth a visit. It is located along the Freedom Trail. If you plan to walk all or part of the Freedom Trail then you will pass right by. This is a good place to stop and grab a bite to eat and drink.  It houses some well-known stores along with a variety of boutiques and souvenir shops. It is across the road from the New England Aquarium, Long Wharf and the waterfront for a view of the Boston Harbor.
Prudential Center is located in the Boston neighborhood of Back Bay. Prudential Center, locally called "The Pru," is home to Saks Fifth Avenue, Lord & Taylor, Vineyard Vines, 344, a Barnes & Noble, and plenty of other big-name shops. The Pru houses offices on its upper levels and is not accessible. The top floor however is worth a trip for the view of Boston in all directions. You take an elevator up to the top floor where you can walk around the perimeter for viewing. You will be able to see the famous Fenway Park, home to the Boston Red Sox. At this time, they are busy preparing for Opening Day, a big event for Red Sox fans, on April 13 this year.
Copley Place is connected to the Pru by the glass-enclosed Copley Bridge passing over Huntington. You will find here some of the more upscale stores — Tiffany's, Barneys, Neiman Marcus, Louis Vuitton and more.
Charles Street is just the other side of the State House from your hotel.   A historic and quaint neighborhood of Beacon Hill, Charles Street has a great collection of boutiques and interesting restaurants. A favorite spot for a beer is the famous 'Cheers' bar.
Downtown Crossing is located at the intersections of Washington, Winter and Summer streets, one block behind the hotel. Washington Street is all pedestrian for several blocks which makes it an easy walk to browse the stores. Visit the large Macy's or The Corner Mall, home to a food court and plenty of shops. The stores are a bit more reasonably priced here and abut China Town, where you find many good Chinese restaurants for lunch or dinner, or Sunday brunch of dim sum.
Harvard Square is a few subway stops away on the Red Line. The MBTA is accessible from Park Street just opposite the hotel, and a good way to spend part of a morning or afternoon. You will find chain stores and some (although they have disappeared over the years) unique stores, such as the Harvard Coop. Meandering down to the Charles River is fun if the weather is good, and no matter the weather walking the historic Harvard Campus and stopping at the newly renovated art museums is recommended.
MUSEUMS, MUSICAL EVENTS, THEATRE, & SPORTS EVENTS
MUSEUMS
Museum of Fine Arts, 465 Huntington Ave, is one of the largest museums in the United States. It contains more than 450,000 works of art, making it one of the most comprehensive collections in the Americas. Current exhibits include Herb Ritts, Gordon Parks and more. Worth a visit.
Isabella Stewart Gardner Museum, 25 Evans Way, two blocks away from the MFA is another great museum. Smaller and more intimate this museum has recently built a modern addition onto the original building with its magnificent courtyard. See link for the history and the current collections.
Harvard Art Museums—the Fogg Museum, Busch-Reisinger Museum, and Arthur M. Sackler Museum—have been dedicated to advancing and supporting learning at Harvard University, in the local community, and around the world. This is worth a trip to see, and easily accessible via the Red Line MBTA picked up at the Park Street Station by the hotel. Currently on display are Mark Rothko and Rebecca Horn.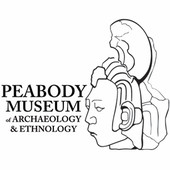 Peabody Museum of Archeology and Ethnology at Harvard University: From towering Native American totem poles and large Maya sculptures to precious artifacts of the ancient world, the Peabody Museum is among the oldest archaeological and ethnographic museums in the world with one of the finest collections of human cultural history found anywhere.
The Peabody Museum is adjacent to the Harvard Museum of Natural History and admission to one museum admits you to both during regular hours.
The Institute of Contemporary Art/Boston is located on the Boston Waterfront just beyond the financial district and Chinatown. The building is spectacular and of course modern. The museum hosts exhibits, performances, talks and many other events for all ages. Currently showing When the Stars Begin to Fall: Imagination and the American South. This riveting exhibition features 35 artist who share an interest in the American South as both a real and fabled place, positioning such leading artists as Kara Walker and Kerry James Marshall alongside self-taught artists. Ongoing works featured in another exhibition explore social and political issues as well as the transformation of genres such as landscape, and the expansion of the medium to encompass drawing, photography, sculpture, and video.
MUSICAL EVENTS
Boston has a rich and active classic music scene. A good place to check what is happening on April 9-12 is here.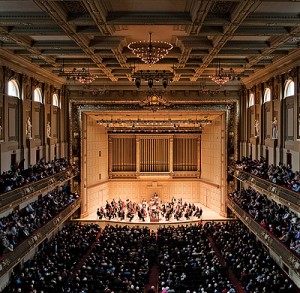 The Boston Symphony is one of the great American symphonies, and performs in Symphony Hall on Mass Ave in Boston. April 9-11 they will be performing Schuller, Mozart and Strauss, with pianist Richard Goode.  Scattered tickets are often available, and there are no bad seats in Symphony Hall.
The Boston Cecilia, one of the fine semi-professional chorales in Boston, will be doing Brahms German Requiem on April 11 nearby in Brookline.
The Office for the Arts at Harvard lists performances done around the Harvard campus. Perhaps the highlight during April 9-12 is a performance sponsored by The Boston Early Music Festival held in the historic Sanders Theatre on the Harvard campus (in Cambridge).
Jazz in Boston is not what it used to be, but you can check out events here.   The best jazz club is Scullers – a short cab ride away – and will be featuring the old fusion group, Spyro Gyra during April 9-11.
Boston and Cambridge have an active club music scene. Check here for events.
THEATRE
American Repertory Theater (ART) and Loeb Drama Center, 64 Brattle Street, Cambridge, showing  AcousticaElectronica, a mind-blowing event that blends elements of electronic and classical music, dance, circus arts and immersive theater with the infectious energy of the contemporary nightclub.
OBERON, 2 Arrow Street, Cambridge, showing long-standing show Award-winner Diane Paulus's celebrated smash hit The Donkey Show, brings you the ultimate disco experience—a crazy circus of mirror balls and feathered divas, of roller skaters and hustle queens inspired by Shakespeare's A Midsummer Night's Dream. 
Boston Center for the Arts has several different theaters, generally smaller black box style located at various nearby locations in Boston. Please check the website for full listings of what is showing during the times of your visit.
A link to the current Boston theater productions can be found here.
Huntington Theater Boston University Theatre, 264 Huntington Avenue, Boston, a nice sized beautiful older theater in a close by location with good productions. It looks like Come Back Little Sheba is playing the weekend of the conference.
Wang Theater Tremont Street, Boston. Jerry Seinfeld and Lewis Black will be performing the weekend of the SPA. Check the link for further information. The Wang is a large venue with a range of seating options and usually shows the big name performers and shows.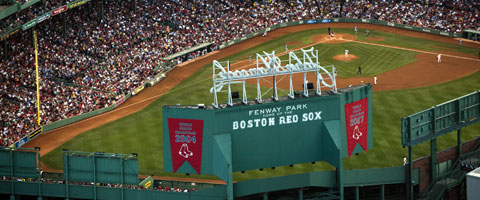 SPORTING EVENTS
Boston is an intense  sports town. The Red Sox open in Fenway Park on April 13, for those willing to stay around an extra day and search for scalped tickets. The Bruins hockey team are out of town, but the Boston Celtics will be playing the Cleveland Cavs in the Boston Garden Sunday afternoon at 3:00 (find tickets at www.ticketmaster.com or www.stubhub.com ). The Boston Garden (TDGarden) will be hosting the semifinal games and final game of the NCAA Hockey Championship on Thursday and Saturday nights. College hockey fans should check out http://www.tdgarden.com/calendar/.
Football fans will have to come in the fall to see the New England Patriots… or wait until the Superbowl!
See you in Boston!