115th Annual American Anthropological Association Meeting
November 16-20, 2016
Minneapolis, MN

The SPA sponsors a number of events at the annual American Anthropological Association meetings, including paper sessions, student-faculty workshops and our annual business meeting and reception.
Guides to SPA-sponsored sessions in Minneapolis:
Click here for a preview of the SPA's sessions at the AAAs.
Business Meeting and Reception
We will be holding our meeting and reception on Friday, November 18 from 7:45 – 9:30 pm (location TBA). The meeting will include presentations of the Boyer, Stirling and Condon Prizes and will include plenty of opportunities to meet and talk with friends and colleagues. Please join us!
Student-Faculty Workshops
As in previous years, the SPA will be sponsoring a series of workshops in which small groups of students convene with faculty member around professional, theoretical, and methodological themes. These workshops offer an opportunity for students to engage in in-depth discussions within a mentoring context related to the proposed workshop theme, and work through specific research and writing problems with a leading scholar in the field.
Each workshop can accommodate three students, on a first come, first serve basis, provided the student's questions are closely related to the workshop theme and that they are current members of the SPA. These sessions will take place in a cafe in or near the conference hotel.
More information can be found here.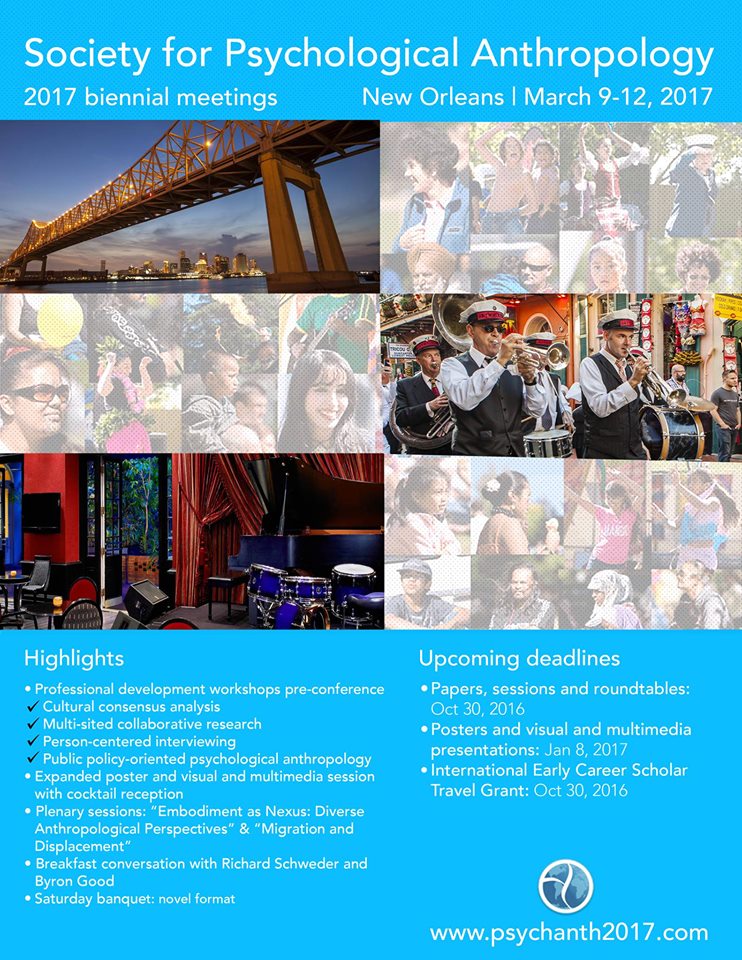 Society for Psychological Anthropology Biennial Meetings
March 9-12, 2017
New Orleans, LA
Join us for the next SPA Biennial Meetings! The deadline for papers, panels, and workshops is October 30, 2016, and the deadline for posters and multimedia presentations is January 9, 2017. Click here for more info, and see you in NOLA!
Information on previous biennial meetings can be found here.